FAQs
Have a question? You might find the answer below
Which banks does Nudge work with?
Nudge works with all Australian banks.
Can I set up multiple goals with my Nudge account?
Yes! We'll send you separate nudges relating to each, and you'll be able to track them individually too.
Can I adjust the frequency and amount of nudges?
Soon, yes – but our first release requires you to choose the frequency and average nudge amount upfront. Just decline nudges occasionally if they're too frequent, or accept more if you want to increase your total amount saved. You can also choose to deposit more from within the app at any time.
Can I withdraw the money from my Nudge account at any time? How long does it take?
Yes. Withdrawals are processed daily and, like most electronic transfers, should then clear within 48 hours.
Do I have to have a photo of my goal?
No, you can just use one of the default icons if you prefer. But a goal image helps remind you of what you're saving for!
I've changed my goal – can I change the picture and the goal amount?
Not yet – but you can simply withdraw the nudges and start again.
How much does it cost? Are there fees?
We don't charge you for using Nudge at all, so there are no Nudge fees.
Can I turn off my notifications and set my payments to be automatic?
Yes, you can use Notification Centre in your phone to turn off nudge notifications. Automatic scheduled payments are coming soon, so you can have your regular savings and your additional nudge savings all in the one place.
Is there a maximum or minimum goal amount?
Can other people see what I am saving for?
No, not unless you show them. We're working on ways to help you share your goals, but only when you choose to.
Can I have a shared Nudge account with my partner or multiple people?
No, you'll need to set up individual accounts. Perhaps divide the goal in two, so you're each saving for half – then race to see who can save their half sooner!
What happens if I want to cancel/close out my account? Can I do that at any time?
Yes. You'll just need to withdraw your nudge savings (by sending them back to the transaction account they were debited from) and then close your account.
Can I spend money directly from my Nudge account?
No. Nudge holds your savings funds. When you want to spend them, you'll have to withdraw these by sending them back to your transaction account they were originally debited from.
Can I trust Nudge to manage my money?
Good question! We are an Australian business, and we've built Nudge on the back of proven technologies from leading Australian banks and associated providers, like EziDebit. Your funds are safely held with a 'Big Four' bank. In addition, nudge savings can only be withdrawn back to the account that they were debited from in the first place.
A free app? What's the catch?!
Good question, but there isn't one. We think banking should be done better, and banks should offer better ways to help people save – so we think they're the ones who should be paying for our technology, not you.
Who is Nudge owned by?
Nudge Saver is a product of Nudge Pty Ltd, a privately held, 100% Australian company. Find out more about the company itself here.
I'm in debt. Can this app help me?
It depends. You can use Nudge to help remind you to put the money aside to pay off your debt, but you might be better off just paying off the debt directly. Alternatively, you may allow yourself a modest savings goal whilst you're still paying down debt (e.g. savings for Christmas presents, so you have the actual cash when you need it). Ultimately, it's up to you. Nudge doesn't provide financial advice, just help with following through on your goals.
Where can I learn more tips about saving money and managing my money better?
That's the spirit! Follow us on Facebook, or subscribe to our blog. We're also in the process of building a resources page with helpful articles and links, so we'll link it from Facebook and the blog when it's live.
What is the squirrel's name?
Aw, we'll tell him you asked! His name is Alfred.
I have a question that is not listed here, how can I get in contact with the Nudge team?
How do I get people to help nudge me towards my goal?
We like the way you think! Making savings social is something we're working on.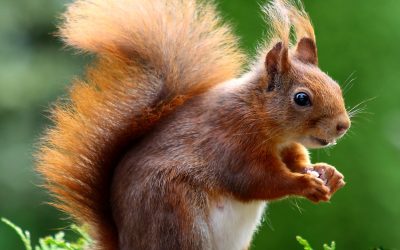 What these cute critters can teach us, and why we're nuts about 'nudging'
Squirrels (and the acorns they collect) have long been used as a metaphor for savings. These industrious little critters store up the nuts when there's plenty, ensuring they have an ample supply when winter comes. Of course, this behaviour isn't about discipline and forward planning – if you're a squirrel, it's just pure instinct.
read more